Wärtsilä 14: New High-Speed Engine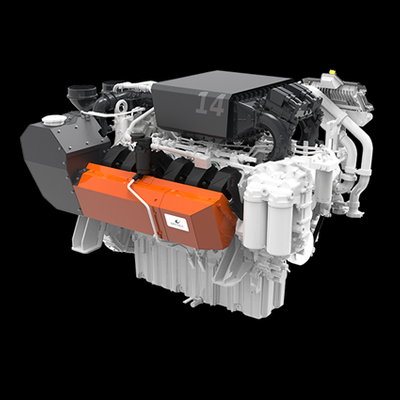 At an exhibition in New Orleans Wärtsilä debuted its first Wärtsilä-branded high-speed engine.
The Wärtsilä 14 is a high-speed, compact engine designed to fit requirements for limited space and weight, lower capital expense, to meet current and future global emissions regulations, and to provide customers with improved efficiency, safety, and environmental sustainability.The Wärtsilä 14 serves both as main propulsion and auxiliary genset and is ideal for hybrid installations. This small but mighty high-speed engine is available in 12- and 16-cylinder configurations, delivering a power output of 755-1340 KW in mechanical propulsion, and 675-1155 KWe in auxiliary and diesel-electric configurations.
Developed in close cooperation with Liebherr, first deliveries of the Wärtsilä 14 are planned for the latter part of 2019. Liebherr will be responsible for product development, classification and manufacturing of the engines.
New tug design fit for Wärtsilä 14
Wärtsilä announced the genset and completes its offering with the introduction of its HYTug 40 design and concept. A smaller version of the HYTug launched in 2017 and designed for shallow draft operation, this evolution features two Wärtsilä 14 engines along with a hybrid propulsion solution which deliver various flexible operating settings, including a zero-emissions mode. Indeed, the HYTug 40 is characterized by low maintenance and operating costs, in full compliance with global environmental regulations. When fitted with a Wärtsilä NOx reduction system (NOR), she also comfortably meets IMO Tier III requirements.
Wärtsilä is confident that the Wärtsilä 14 will set a new technological benchmark for both main and auxiliary propulsion solutions in the market, as the bar is set to deliver tangible financial, operational, and environmental benefits – enhancements that are key to achieving and maintaining profitable operations for ship owners and operators around the world.