Wärtsilä Tests Remote Service Capabilities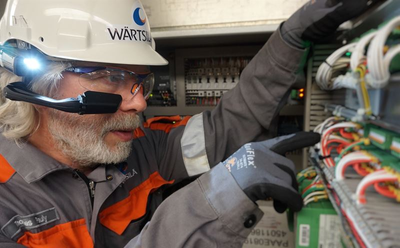 The technology group Wärtsilä has successfully tested its remote guidance service, thereby creating an entirely new dimension in vessel repair and maintenance operations.
Through real-time communication using voice-controlled Augmented Reality (AR) wearables and remote guidance software, ship crew members, field service engineers and shipyard personnel can communicate with shore-based experts anywhere in the world.
The tests were carried out onboard the 'Huckleberry Finn', a RoRo ferry operated by TT-Lines, while sailing between Trelleborg, Sweden and Travemünde, Germany.
Simulated remote guidance service situations were carried out on the ship's navigation equipment on the bridge and on the shaft line seals and bearings in the engine room. The WiFi signal for the video sessions was facilitated by a portable on-deck LTE antenna. The onboard simulations were monitored in real-time by expert Wärtsilä personnel located in Gothenburg and Hamburg. The tests verified the effectiveness of the AR wearables as a means of communication, while the portable WiFi antenna provided a strong signal wherever needed.
Wärtsilä's remote guidance service also proved successful during a demonstration in the TT-Lines office, during which remote guidance opportunities for use in dockings and shipyard overhauls were discussed. Wärtsilä's Smart Marine vision brings digitalization and connectivity together to optimize efficiency, improve safety and lower operating costs for the shipping industry.