Zim Sammy Ofer: The First LNG-powered Vessel in ZIM's Fleet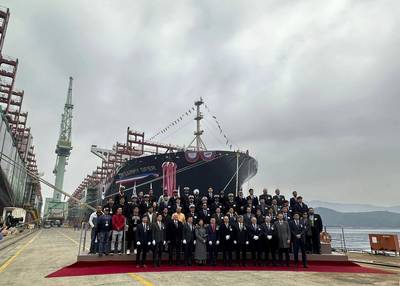 South Korea's Samsung Heavy Industries shipyard hosted a naming ceremony for the 15,000 TEU LNG dual-fuel vessel Zim Sammy Ofer.
The Zim Sammy Ofer is the first of 10 vessel ordered in a long-term chartering agreement between ZIM and Seaspan Corporation. The vessel was named after the late shipping magnate Sammy Ofer, who passed away in 2011.
The Neo-Panamax vessel is 366-meters long with a 51-meter beam. The vessel has a max service speed of 22.5 knots, a dual-fuel main engine with output of 46,000kW @ 80 rpm, and an Energy Efficiency Design Index to meet the tightened emission standards in the future. The owners say that the Zim Sammy Ofer will be the first vessel of the kind to call the US East Coast.
Eli Glickman, ZIM President and CEO, said: "This is an important moment for ZIM, and for me personally. I had the privilege of knowing the great late Sammy Ofer for many years, as a mentor and an inspiration. Naming the first LNG-powered vessel in ZIM's fleet in his honor is a fitting tribute to his vision. With the entrance of the ZIM Sammy Ofer we embark on a new era, with a far more efficient and sustainable fleet, improving our cost structure and competitive edge and enhancing our commitment to ESG values."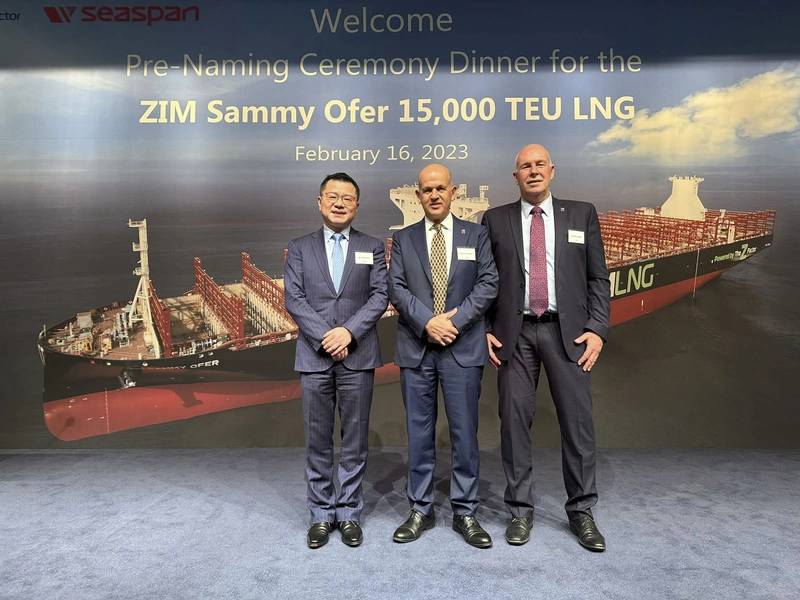 From left Bing Chan, Eli Glickman, David Arbel (ZIM EVP COO), Credit: ZIM
Bing Chen, Atlas and Seaspan President & CEO, added, "This is a historical event for Seaspan and our valued partner ZIM. We are extremely honored to deliver the vessel in recognition of a legendary industry icon, the late Mr. Sammy Ofer, as we continue our decarbonization journey. The significant fleet of highly efficient LNG vessels tailored for ZIM, will expedite both companies' progress toward our next phases of sustainable shipping.
"Our subsequent deliveries of 15,000 TEU and 7,800 TEU LNG dual fuel newbuilds in 2023 are the further testimony of our commitment to our ESG values and a more sustainable marine industry. We are particularly privileged to partner with ZIM in making this forward-thinking milestone to bring these ultra-modern vessels to the market."
The Zim Sammy Ofer will join ZIM's flagship service, ZIM Container Service Pacific (ZCP), from Asia to the USA East Coast. A grand welcome ceremony is scheduled for April 30th, 2023, at Haifa Bayport during its maiden voyage.