Austal Awarded Two More Independence-variant LCS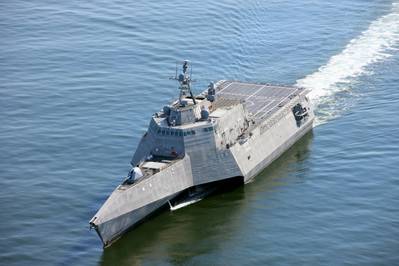 The U.S. Navy awarded a contract modification to shipbuilder Austal USA to build two additional Independence-variant Littoral Combat Ships, LCS 32 and 34, its 16th and 17th vessels in the class. The specific value of each contract is under the congressional cost cap of $584 million per ship.
"To be awarded these contracts in such a highly competitive environment is a great honor," said Austal USA president, Craig Perciavalle. "This is a testament to the hard work and commitment of our talented employees and dedicated supplier network, and further evidence of the important role Austal plays in building the Navy's 355-ship fleet."
The Alabama shipyard has handed over three LCS to the Navy this year, noting that it continues to reduce cost and deliver on schedule.
The littoral combat ship has been identified as a key component to the Navy's ability to gain sea control through distributed lethality. This, along with the Expeditionary Fast Transport (EPF) program, positions the company well to rapidly and efficiently support the Navy's desired fleet of 355 ships with affordable solutions.
With eight LCS and nine EPFs already delivered, Austal most recently handed over the future USS Charleston (LCS 18) to the Navy last month and is scheduled to deliver USNS Burlington (EPF 10) before the end of the year.
"This amazing team effort highlights the value and importance of the American industrial base, and these awards will keep Austal busy building ships into 2023," said Perciavalle. Construction of LCS 32 is scheduled to begin in 2019.