Thales Invests to Advance Autonomy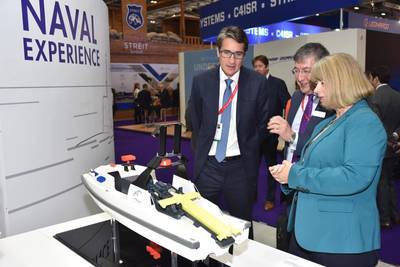 Thales is announcing a major commitment to develop future autonomous and unmanned technology across air and sea by investing in two new UK-based trials and training centers.
Following Thales's successful trials during the
Royal Navy
's Unmanned Warrior exercise in 2016, Thales is now investing in two trials and training centres based in West Wales and in South-West England to test and develop autonomous systems for both military and civil activities.
"Investing in these facilities enables the safe test, evaluation and training of autonomous platforms, innovative research and development, as well as the regulations for military and civil applications. These facilities will be central to the growth of Thales's future autonomous capability," said Victor Chavez, CEO of Thales in the UK.
Thales will invest $9.3 million across the two regions, and sustain around 60 jobs in the local areas. There are currently 500 jobs both in Thales and our
supply chain supporting
current and future autonomous and unmanned systems technologies.
The new $1.3 million facility in Turnchapel Wharf, Plymouth will be Thales's maritime autonomy trials and training centre. The five year commitment by Thales secures 20 jobs and the aspiration to continue to grow our footprint. This waterfront facility will provide access to trials areas for development of cutting edge maritime autonomous systems and position Thales at the centre of future maritime autonomy capability. The facility will act as the key maritime integration, test and evaluation centre for the
combined United Kingdom
and French Maritime Mine Counter Measures (MMCM) Program.
Central to the growth of Thales's future, Thales has also signed a five year agreement with West Wales Airport (WWA) which will continue to deliver the Watchkeeper programme to the British Army and to expand the innovative test, development and training of Unmanned Aircraft Systems (UAS).
Thales has committed $8 million to the West Wales facility over the next two years, securing 40 jobs both locally and across the UK. \