US Navy Conducts Bilateral Drill with Japan and Korea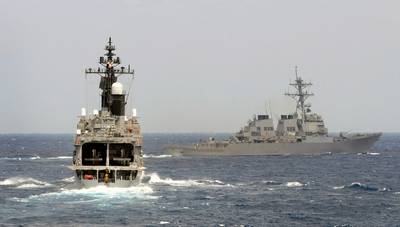 U.S. Navy ships are conducting simultaneous bilateral maritime exercises with the Republic of Korea Navy and with the Japan Maritime Self Defense Force today and tomorrow (April 25-26, local time).
The destroyers USS Wayne E. Meyer (DDG 108) and ROKN Wang Geon (DDH 978) are conducting combined maritime exercises in waters west of the
Korean Peninsula while
the destroyers USS Fitzgerald (DDG 62) and JMSDF JS Chokai (DDG 176) execute combined maritime exercises in waters west of Japan.
Both exercises demonstrate a shared commitment to security and stability in
Northeast Asia
as well as the U.S. Navy's inherent flexibility to combine with allied naval forces in response to a broad range of situations.