INCAT CROWTHER TO DESIGN 24m CATAMARAN PASSENGER FERRY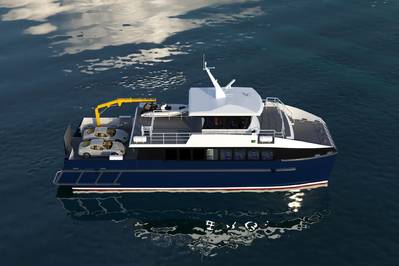 Incat Crowther is pleased to announce the design of a 24m Catamaran Passenger Ferry to be built by Baltic Workboats in Estonia. The vessel is a follow up to the Incat Crowther-designed 24m Catamaran Scientific Research Catamaran under construction at the yard, and will be operated in the Gulf of Riga, Estonia.

Incat Crowther worked closely with Baltic workboats in their successful bid, developing a vessel utilizing the same platform as the research vessel. As part of the development process, changes were made not only to meet the operator's requirements, but also to streamline the build process, including the use of pre-fabricated extrusion-based panels.

The close cooperation between Incat Crowther and Baltic Workboats resulted in a winning bid selected as the most suitable vessel for the operation, offering the best value.

In addition to passengers, two vehicles will be carried on the aft deck, with deck capacity allowing vehicles up to 6.5m in length, and axle loads up to 2.4t. Vessels will be loaded via the stern-mounted ramp. There is also an 8t-m Guerra M 75.90A1 Deck Crane for loading cargo.

The aft deck has passenger loading gates situated amidships and is connected to the passenger cabin through a large passageway that houses the passenger toilets. The forward end of the main deck cabin accommodates all 60 passengers and also features a small bar and luggage racks.

At the aft end of the cabin is a crew area that comprises of a crew mess, twin cabin and bathroom.

The vessel will be powered by a pair of Volvo D16MH R2 main engines, each producing 751hp. It will have a service speed of 22 knots and a top speed of 26 knots.

Incat Crowther is proud to support Baltic Workboats, not only in securing this contract, but also in their mutual drive to find ways to continually refine the boat building process. Baltic Workboats has a strong record for producing robust, well built vessels and Incat Crowther looks forward to supporting Baltic Workboats in their expansion into this new market.
Source: INCAT CROWTHER