USMMA Celebrates Completion of Mallory Pier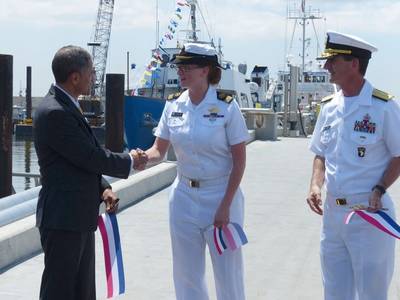 The United States Merchant Marine Academy (USMMA) at Kings Point informs it recently hosted a ribbon cutting ceremony to celebrate the completion of Mallory Pier. The pier was completely reconstructed as part of USMMA's overall $71 million dollar Capital Improvement Plan.
Faculty, staff and guests were welcomed by the Regimental Band's Fanfare Trumpets, who were then followed by a greeting from Rear Admiral James A. Helis, Superintendent. Helis thanked those who played a role in the pier's completion, including the Capital Improvement Team, engineers, administrators, the Waterfront staff and the contractor, Russell Marine.

"The new Mallory Pier is a major accomplishment and a concrete (pun intended) symbol of our ongoing efforts to renovate and modernize the Academy's facilities," said Helis. Admiral Helis then quoted Mr. Wayne Leong, Maritime Administration (MARAD) Director of Procurement, who wrote about the Mallory Pier project, "We were fortunate to have had a great team, quality contractor, good specs and strong leadership support. It doesn't happen often that all the stars align perfectly, and it's gratifying that it happened on this important project," said Helis.

Helis introduced the Acting Maritime Administrator, Paul N. Jaenichen, who thanked the U.S. Department of Transportation staff; Dave Murk, Lana Hurdle, John Reardon, Bruce Markman and Keith Washington, for the work they did over the past five years. He congratulated them not only on a job well-done, but for a job that was done "on-time and under budget." Mr. Jaenichen then introduced the Guest of Honor, Deputy Secretary of Transportation Victor Mendez.

Mr. Mendez greeted the audience and thanked them for working as a team to make the Mallory Pier project a success. He passed along congratulations from Secretary of Transportation Anthony Foxx.

He also spoke directly to the midshipmen, making special mention of the First Classmen who will be taking their U.S. Coast License Exams this week. He wished them luck and said that he was confident that he would see them all again on graduation day. Then Deputy Secretary Mendez, Rear Admiral Helis and Midshipmen Erin Hofstetter, 1/c cut a ceremonial red white and blue ribbon.

After the ribbon cutting ceremony, Mr. Mendez and Mr. Jaenichen briefly toured the pier with Rear Admiral Helis before joining the Regiment of Midshipmen for lunch in Delano Dining Hall.

(Pictured here: Victor Mendez with Midshipman Erin Hofstetter, First Class, and Rear Admiral James Helis).