CMA CGM Inaugurates Antoine de Saint Exupery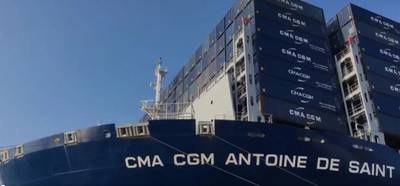 French shipping group CMA CGM inaugurated its new flagship vessel 20,600 TEU-containership CMA CGM Antoine De Saint Exupery in Le Havre, France.

Two French ministers, Bruno Lemaire (Economy) and Elisabeth Borne (Transport) were present for the event.

Delivered last January 26 by Philippine shipyard Hanjin Heavy Industries & Construction Philippines of Subic Bay, the vessel is one of the largest container ships in the world. At 400-meters long by 59-meter wide, the vessel has the capacity to carry 20,600 twenty-foot containers.

CMA CGM Antoine De Saint Exupery is equipped with environmental technologies such as a Becker Twisted Fin, which helps reduce in CO2 emissions by as much as 4%, as well as an engine that CMA CGM says reduces fuel and oil consumption for an a 3% average reduction of CO2 emissions.

CMA CGM Antoine Saint-Exupéry is the first three similar ships being built for the group. Other ships will be CMA CGM Jean Mermoz and CMA CGM Louis Blériot.