New UK Sub Completes its First Dive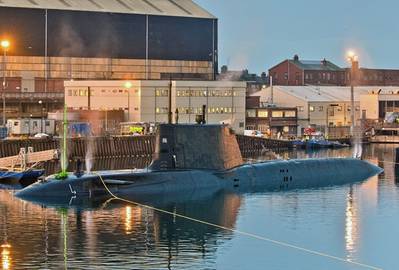 The U.K. Royal Navy's fourth Astute class submarine, Audacious, has completed its first ever dive, marking a milestone on the path toward full sea trials later in 2018.
The trim and basin dive took place over two days in early January in Devonshire Dock, at builder BAE Systems's site in Barrow-in-Furness.
The operation, which saw Audacious submerge fully underwater for the first time, allowed a team from Royal Navy,
Ministry of Defense
and BAE Systems to test many of the sub's
onboard systems
, and proved the safety and stability of the 7,400-metric-ton, 97-meter-long attack submarine.
The dive also allowed engineers to calculate the submarine's precise weight and centre of gravity. Some 16 metric tons of lead were taken on board and moved across the width of the vessel so naval architects could confirm their calculations.
Employees from BAE Systems worked alongside Audacious' crew, including its Commanding Officer, Captain Scott Bower, to complete the test.
Officially named in December 2016 and launched in April last year, Audacious is scheduled to leave Barrow for sea trials later this year.
Astute-class submarines HMS Astute, HMS Artful and HMS Ambush are already in-service with the Royal Navy, with boats five and six, Anson and Agamemnon, along with a seventh, as yet unnamed, in different stages of construction.
Once construction and sea trials are completed, Audacious will join sister Astute class vessels at HM Naval Base Clyde, the home of the U.K. Submarine Service.