Completing 'The Next Level': Synapsis NX at SMM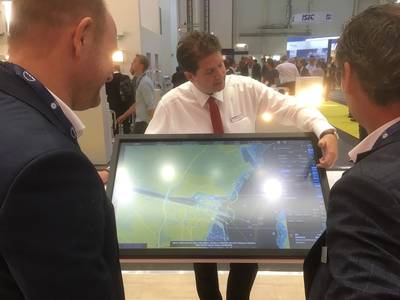 Raytheon Anschütz has unveiled a new suite of navigational software, designed for intuitive operation and enhanced with smart functionality at SMM 2018. The new Radar NX and ECDIS NX software complete the Synapsis NX series of innovative bridge navigation systems.
Visitors to the Raytheon Anschütz stand at SMM will see the new design introduced with Synapsis NX at glance. Modern, consistent and fancy user interfaces, together with a lean and ergonomic bridge design, dominate the new Synapsis NX integrated navigation system (INS).
Raytheon Anschütz developed the new software in an agile development process leveraging the expertise of experienced navigators and specialized user interface designers. A new stack of software technologies enables a modular system design and provides the foundation for further development.
ECDIS NX simplifies routines aboard. Users can decide to hide panels with indications or operation controls to have a maximized chart window in support of route monitoring tasks. As another example, route planning becomes a wizard-guided process and utilizes intuitive principles such as drag-and-drop for waypoints. Other feature enhancements comprehensive voyage planning tools including interfaces to ship-shore data exchange.
Radar NX introduces a new tracker that delivers optimized performance in tracking and anti-clutter processing. User benefits from a high situation awareness and a fast interpretation of the radar picture. An advanced radar video merge feature is available as an option.
Any of the new Synapsis NX application also includes highly integrated INS functions, such as radar/AIS target management, alert management or sensor integrity monitoring as a standard.
Below the surface, Synapsis NX is based on standard hardware and network components in accordance with latest IEC standards such as 61162-450 Light Weight Ethernet.
The system architecture includes implemented redundancies and grants scalability and flexibility to realize individual configurations and designs. If required, this can include hardware installation in a 19" rack.