Damen to Debut Composite Fast Crew Supplier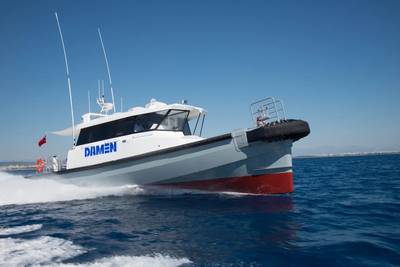 Damen Shipyards Group will launch a composite Fast Crew Supplier 1605 to the market in February. Built at Damen Shipyards Antalya in Turkey, the group's specialist composite yard, the Fast Crew Supplier 1605 FRP (Fiber Reinforced Polymer) is an addition to the builder's aluminum 1605 range, 70 of which have been sold over the years.

According to Damen, the new FCS 1605 FRP's composite construction and waterjet propulsion make the vessel light and strong, allowing it to reach a speed of 29 knots. With a capacity for 12 passengers, the new 16-meter vessel provides increased comfort because seats are positioned more aft and it has a spacious deckhouse and good all-round visibility.

The new vessel can be delivered in a crew or patrol boat layout, and because composite building facilitates standardized, series building, the vessel is a cost effective option for customers. Additionally, as it is manufactured from FRP, the vessel is not subject to corrosion and is easy to maintain, Damen noted.

The first vessel of the new composite series – DMS Swift – has already joined the fleet of Damen Marine Services (DMS). Special attention has been given to the vessel's ability to work in extreme temperatures – both air and sea. After a test and trial program, the DMS Swift is ready for worldwide deployment.