CMA CGM Acquires 7,000 Reefer Containers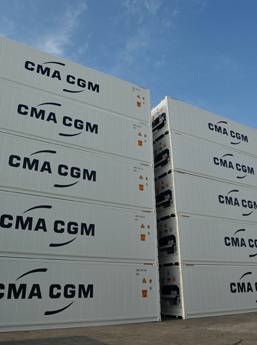 The CMA CGM Group announced it has acquired more than 7,000 of last generation 40' High Cube Reefer containers including 6,000 low consumption engines.

The CMA CGM Group said regularly invests Reefer containers that reduce carbon print by 60% compare to the first generation's Reefers, allow a precise controlling of the cold chain and optimize the atmosphere control, operate a phytosanitary cold treatment needed for perishable goods and lengthen significantly their shelf life.

Alexis Michel, Senior Vice President Logistics & Reefer, explained, "These investments strengthen CMA CGM's leader's position in Reefer transport which will become the most important vehicle of sensitive goods transport in the following years to come."

Thanks to these containers, CMA CGM is able to transport fruits and vegetables, frozen food, wine, flowers and pharmaceutical products in optimum conditions.

In a growing market which requires a specific know how, the CMA CGM expertise and its investments allow the group to increase its Reefers volume by 13%, the group said. With its Reefer fleet of 185, 000 TEU, the CMA CGM Group is ranked second carrier and carry 850 000 TEU per year.

CMA CGM said its objective is to transport one million 20' reefer containers before 2015.