Ben3D Introduces ContainerTug 600S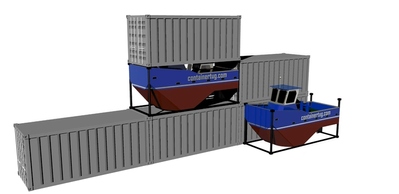 Ben3D BV Naval Architecture introduce in collaboration with Oonincx Shipbuilding BV the innovative ContainerTug 600S. A strong, compact Dutch built workboat with a remarkable feature: it can be transported as a standard 20 foot container. The 1,200 kg bollard pull, its relatively large deck area and good manoeuvrability make the ContainerTug an all-round pull, push and support vessel. By truck, train or ship, the ContainerTug follows you wherever the work needs to be done - worldwide.

The idea is as simple as it is innovative and responds to the desire of companies to increase their area of operation in a cost-efficient manner. Ben de Vries , director of BEN3D explained, "Transportability is becoming increasingly important in a market where companies are forced to be flexible. Despite the tight constraints of the (ISO) container sizes, we succeeded in developing a versatile workboat."

The sizes of this all-round work boat are identical to that of a standard 20-foot container. The ContainerTug features integrated container fittings at all corners and is therefore stackable. The lightweight top of the wheelhouse can easily be removed, which keeps its depth within container proportions and reduces the vessels airdraft significantly. The hull is solidly constructed out of Grade A steel and can , if desired, be delivered with a class certificate. Removable fenders are also optional.

The ContainerTug 600S is equipped with a Volvo D5A TA engine that delivers 89 kW at 1900 rpm. Its maximum speed is 6 knots. During towing operations the container fittings on the aft deck can be removed easily, so that the angle of the tow line will not be unduly restricted. The bow shape is ideal for pushing. The ship can be supplied with removable twist-lock bollards which can be fixed easily to the front container fittings.

Also available as a building kit
The hull of the ContainerTug 600S will also become available as a building kit. This building kit contains all steel & aluminium parts, fully cut, which allows for building the ContainerTug locally, with support of BEN3D. If desired, the hull structure can include specific adjustments, for example for the preferred engine to install. Besides this, the scope of delivery can be extended according to specific needs.