Imtech Marine Awarded Second Jack-Up Contract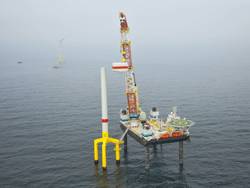 Imtech Marine (Radio Holland Netherlands) has been awarded an extensive contract from Jack-Up Barge for the communication and IT systems for its newbuild, self-elevating platform JB-118.
This follows a similar contract for the JB-117, which Imtech Marine successfully completed earlier this year. Additionally, Jack-Up Barge and Imtech Marine have concluded an Advanced Support Agreement for the vessels, which includes 24/7 remote Monitoring & Maintenance and covers all of the systems onboard.
The recently awarded contract for the latest barge is extensive comprising the PA intercom and alarm system, VSAT network, PABX central telephone system and the total navigation, communication and entertainment package, including IPTV and satellite television. Additionally, Imtech Marine will install VHF/UHF communications for the crane operators, a meteo and CCTV system, as well as a communications system for the helideck..
Complex installation

Nico van Leeuwen, Imtech Marine Netherlands Sales & Marketing Manager, says the two companies started to work together around 18 months ago on the JB-117, which was built in Batam, Indonesia. "The JB-117 was a difficult installation, very complex; our knowledge gained from this project has provided valuable input for the JB-118 and any future orders."
One aspect that makes the installation quite challenging is that the barge typically has 50 to 80 crew onboard of different nationalities and of course, they would all like to watch their favourite TV shows on different stations.
Crew welfare

Paul Koole, Project Manager E&I, Jack-Up Barge comments: "The JB-117 is working on a three-year contract on a wind farm in the North Sea. Jack-Up Barge recognises that this access to television and the Internet is very important for crew welfare. The crew work very hard on long shifts and need to be able to relax."
Koole adds that Jack-Up Barge appreciates Imtech Marine's ability to offer the total package. "Effectively, Imtech is a one-stop-shop. Working with Imtech we have peace of mind, we know what to expect and that the company delivers on time."
Working in close partnership

The two companies work in true partnership, he says. "There is very close contact between the project departments of Imtech Marine and Jack-Up Barge throughout the contract." Van Leeuwen adds: "Our aim is to eliminate all surprises. Jack-Up Barge has given us the freedom and the trust to allow us to get the job done."
Advanced Support Agreement

Additionally, Jack-Up Barge has taken out an Advanced Support Agreement for the vessels, which includes 24/7 remote Monitoring & Maintenance and covers all of the systems onboard, including VSAT, computers, navigation and communication equipment. Because the barges are often working offshore for many months at a time it is vital that any problems can be sorted out remotely. This agreement also includes systems management. For instance when there are crew changes and a new crew is boarding everything is set up ready, email accounts, login passwords etc. so they don't have to worry about changing the systems themselves.

Imtech Marine has already started on the pre-engineering and the drawings for the JB-118, which is being built near Hong Kong in Shenzhen and installation work is likely to start in the third quarter. The JB-118 is expected to be delivered mid-2013. Jack-Up Barge is one of the world's leading suppliers of Self Elevating Platforms for both the energy and heavy civil construction markets. Based in Sliedrecht in the Netherlands, Jack-Up Barge supplies two types of Self Elevating Platforms, the Modular and Monohull Jack-Up.