Austal Wins USN LCS Support Contract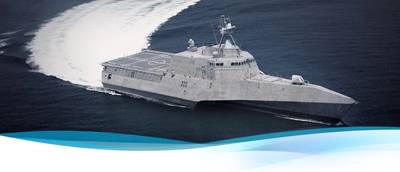 The U.S. Navy has awarded a contract to Austal Limited USA to provide engineering and management services support of the Post Shakedown Availability for Independence-variant Littoral Combat Ship (LCS) Gabrielle Giffords (LCS 10).
The US$12 million cost-plus-award-fee order adds to Austal USA's growing support business, which provides critical support to both the LCS and Expeditionary Fast Transport (EPF) fleets. Austal USA will provide design, planning, and material support services for Gabrielle Giffords (LCS10), including program management, materials planning, engineering and design, material kitting, liaison and scheduling.

Austal USA is currently completing an 11-ship Independence-variant LCS contract for the U.S. Navy worth over US$3.5 billion. The program is maturing rapidly with four of the 127 metre ships delivered and seven ships under construction at this time; USS Montgomery (LCS 8) was delivered to the U.S. Navy in June 2016 and commissioned in September 2016, the future USS Gabrielle Giffords (LCS 10), USS Omaha (LCS 12) and USS Manchester (LCS 14) are undergoing sea trials.

Final assembly continues on the future USS Tulsa (LCS 16) and USS Charleston (LCS 18), whilst modules for the future USS Cincinnati (LCS 20) are under construction in Austal's advanced module
manufacturing facility (MMF).