ABS Wins Great Lakes Towing SubM Contract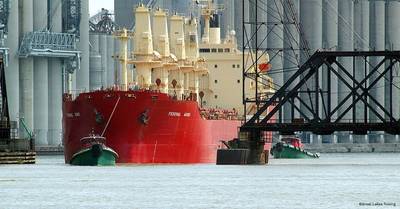 ABS said it has been awarded a Third Party Organization (TPO) contract by The Great Lakes Towing Company (GLT) to support compliance with the United States Coast Guard (USCG) Subchapter M regulations.
"Every organization operating towing vessels in U.S. inland waterways will have to comply with Subchapter M," said
ABS Americas Division
President Jamie Smith. "As an industry leader in towing vessel safety, ABS helps guide companies through the
available compliance services
to find the solution that best meets their unique needs."
The recently signed contract with GLT, which is a member of the
American Waterways Operators
(AWO), establishes ABS as the company's TPO, providing surveys for its fleet and audits of its Responsible Carrier Program (RCP). The company has long recognized the advantages of being proactive in demonstrating compliance. By partnering with ABS, GLT is on course to achieve complete Subchapter M compliance through a customized strategy of solutions specialized for its fleet.
"GLT has spent the past several years planning for the adoption of Subchapter M requirements into our operation and tug fleet," said GLT President Joseph Starck. "We looked to ABS as our exclusive SubM partner based on their commitment to vessel safety, specialized technical understanding of towing vessels, and comprehensive range of services conveniently available to cover all our Subchapter M compliance requirements. We have enjoyed an excellent working relationship with ABS for years and feel certain that, with the addition of Subchapter M compliance services, ABS will continue to contribute to our success.
As a USCG Recognized Organization (RO) and approved TPO, ABS provides fully integrated solutions to help owners and operators achieve and maintain Subchapter M compliance. Each organization's needs for compliance can be realized through a suite of services, which includes Towing Safety Management System (TSMS) implementation and auditing, comprehensive plan review on behalf of the USCG avoiding additional USCG submissions, ABS class in conjunction with the International Safety Management Code (ISM), and ABS Nautical Systems – a digital platform for fleet management. Additionally, ABS can administer RCP audits – a USCG approved TSMS option on behalf of the AWO – and has developed USCG recognized Rules and Guides to support owners and operators that choose classification as their compliance option.