AMSG Wins Contract to Upgrade Vessel Tracking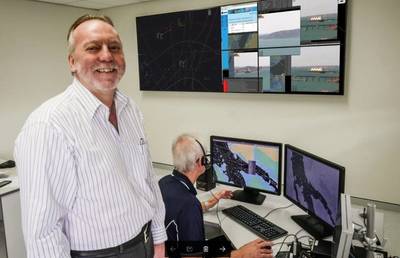 A contract to upgrade the 'nerve center' for shipping at the Barrow Island port proves the resources sector is continuing to fuel big opportunities for Australian firms.

Australian Maritime Systems Group (AMSG) has been awarded a contract by Chevron Australia to design and install a new Vessel Tracking Service (VTS) system to manage shipping to and from the Chevron-operated Gorgon Project on Barrow Island, 60km off the north-west coast of Western Australia.

AMSG Managing Director John Sugarman said the new Vessel Tracking System will utilize state-of-the-art radar and software systems.

AMSG installed the existing VTS system and marine aids to navigation during the construction of the Gorgon Project and provided ongoing support and maintenance.

The Port of Barrow Island will utilise Kelvin Hughes radar and the premier Saab V3000 Command and Control VTS Software, which is now used at many of the world's busiest ports, including Shanghai, Hong Kong and Rotterdam, as well as Darwin and Fremantle in Australia.

The system will be fully designed, built and tested at the AMSG Brisbane factory, then transported to Western Australia for installation and on-site testing and commissioning.

Earlier this year AMSG announced it would design and install a new VTS at Port Hedland – the world's largest bulk export port – on behalf of Pilbara Ports Authority (PPA).

The company previously installed the VTS now used at the PPA-managed Port of Dampier.

AMSG has also installed off-shore and on-shore marine monitoring systems for the Chevron-operated Wheatstone Project.