Solent Contracts Damen for Two Stan Tugs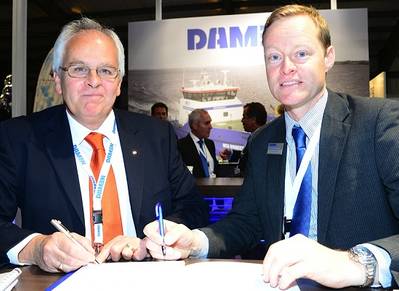 Damen Shipyards Group has been contracted for a STu1205 and a STu1606 for Solent Towage at the U.K's Seawork International exhibition. The vessels will be delivered by October 1, 2013 and deployed for work on Exxon at the Fawley Oil Refinery, on Southampton Water.

Solent Towage has owned a Damen vessel for 18 years, which has clocked up 36,000 engine hours. Among its fleet of seven vessels, it's the favorite among the crew, so Damen was the obvious choice for expansion. Solent Towage operates Escort Tugs from the Fawley Oil Terminal escorting and towing tankers inward and outward bound to the terminal.

Nick Jeffery, General Manager of Solent Towage, and the Technical Manager of parent company ØstensjøRederi attended a Damen Experience Sailing Day in Gorinchem (the Netherlands) earlier this year and saw a selection of stock vessels on display from which the 1205 and 1606 were selected.

The vessels will be modified with 5m air draft to cope with working under jetties and will also feature rope guards to protect the vessel and selected electronics. Both vessels will be painted in Solent Towage corporate colors. The quick delivery of the vessels, facilitated by Damen Shipyards' availability of stock vessels, combined with their reputation for sturdiness, quality of build and reliability, all contributed to the sale.