Cummins Power for Amazon Tug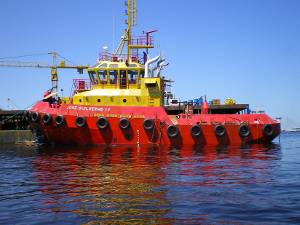 The Cummins distributor in Manaus Brazil has recently performed sea trials on a new 3,200 hp harbour tug prior to delivery to the owner J. F. Oliveira Navegation Ltda. The Jos Guilherme IV was built by the Estaleiro Rio Negro Ltda at Manaus on the Amazon River.

The 82 by 32.8 ft boat has a molded depth of 17 ft and a 9 ft design draft. Powered by a pair of Cummins KTA50-M main engines, each developing 1,600 hp at 1,800 rpm the boat has a 40-ton bollard pull and a 13.1-Knot free running speed. The main engines turn a pair of HRP model 6111WM aziuthing Z-drives. A pair of Cummins-powered 99 kW generators provides auxiliary power. Sea trails for a sister vessel will be undertaken later in December.