Warship Delivered to Moroccan Navy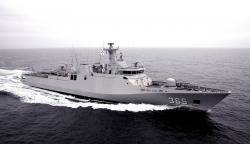 Second Sigma-class frigate transferred to Royal Moroccan Navy by Damen Schelde Naval Shipbuilding.
The delivery of the second of three frigates was achieved within four years from the effective date of contract. The first frigate Tarik Ben Zayid is already in service and the third frigate for the Royal Moroccan Navy is well underway.
After commissioning, the crew will continue with another three weeks of safety training in Den Helder and the North Sea, conducted by training teams of the Royal Netherlands Navy. After that frigate Sultan Moulay Ismail will set ou on her maiden voyage to Morocco.

SIGMA-class Warships
The three SIGMA-class frigates for the Royal Moroccan Navy have been designed according to Schelde Naval Shipbuilding's revolutionary SIGMA-approach, applying modularity in many areas of construction.
The corvettes are equipped with a comprehensive combat and communication suit fitted on a spacious platform accommodating 80 persons, a large helicopter deck and twin-screw diesel propulsion. The superior propulsion and sea keeping capabilities make the SIGMA class suited for maritime search and patrol operations in Indonesian territorial waters. Basic functions are Naval Patrol EEZ, Deterrence, Search And Rescue and ASW.