KBN' Container Lifts Demonstrate Reliability, Safety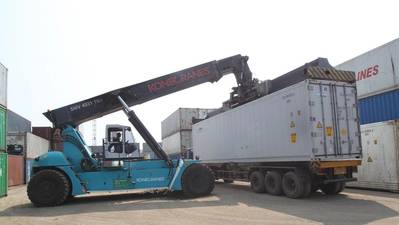 KBN's container lift trucks demonstrate outstanding reliability, safety and ease of control in Jakarta facility.

The busy operations of Indonesian export processing and logistics company Pt Kawasan Berikat Nusantara demand exceptional levels of efficiency and reliability from its container lift trucks.
For its latest acquisitions at the company's Jakarta facility, KBN required machinery that would handle more than 200 40 and 20 foot containers a day while being backed with a rapid response service backup if ever required to maintain throughput.
The winner of the selection process was Konecranes SMV 4531 TB5 reach stacker with 45 ton capacity to handle the wide diversity of container and wet and dry goods handled by KBN. This includes Isotank containers and diverse dry goods including garments and electronics held in the company's export zone bond and unbonded depot and warehousing areas.
"Performance of the new machines has been very good," said KBN Manager, Pelayanan Forwarding, Sumariyo Munandar. "We have had no breakdowns or issues since we acquired the new machines last year to complement earlier types. We are backed by Konecranes service 24 hours a day – and their spare parts are easy to get if required," he said.
Konecranes South-East Asia Regional Director Steve Gagnuss says the Konecranes machinery used by KBN incorporates the experience of Konecranes in manufacturing lift trucks for more than 50 years, with the company now producing lift trucks in capacities from 10-60 tons. It also produces complementary empty container handlers, gantry truck, toploaders, forklifts, reach-stackers and roll-on, roll-off trucks.
"Konecranes' latest generation of reach stackers builds on many years of development and close partnership with our customers," says Mr Gagnuss. "This means we can offer a very modern lift truck with a fuel-efficient engine that delivers high torque even at low rpm. Customers also get access to a string of innovative solutions to simplify their work – for example, the load-sensing hydraulic system with variable piston pumps, which ensures an optimum balance between engine power and hydraulic demand for any lift."
In reach stackers such as those operated by KBN, special attention has been paid to the design of operators' cabs. "Our machines have probably the best cabs on the market in terms of visibility, ergonomic design and comfort," says Mr Gagnuss. "The cab is designed so the operator can easily reach all the controls and check all the functions at a glance. This allows the operator to concentrate of goods handling and to work more efficiently and safely," he said. Mr Sumariyo agrees the new machinery is easy to operate, with staff adapting readily to it after basic training. "And they are safe to operate – very safe. The cabin layout is very good and the colour display is very clear," he said.
Konecranes offers tailor-made reach stacker solution for different industries In addition to traditional ports and intermodal terminals, it supplies reach stacker machines to industries such as steel, wind energy, nuclear and oil and gas. Konecranes has also delivered the world's largest reach stacker for barge handling. Leading the way in the application of Canbus technology and electronic controls for lift trucks, Konecranes extended its revolutionary system to provide real time data about the controls, hydraulics, engines, transmissions and spreaders, which can be downloaded remotely and stored for analysis. Using "Eco Drive System" port operators can track drivers in terms of fuel consumption, productive hours, time driving versus lifting, container lifts to name a few.
Konecranes Lifttrucks opened its second production facility in 2007, in Shanghai, China which is now the Lifttrucks Production, Sales and Technical Support hub for the Asia-Pacific region. Singapore is enhanced as a regional sub-hub with a recent relocation to larger premises. The Konecranes group employs more than 10,500 people in 46 countries. Konecranes industrial cranes and hoists are used by many industries including automotive production, energy and resources, manufacturing, metal and mineral processing, primary product and paper processing and ports and infrastructure projects globally.