HVAC Systems: The Stealthy Drain on Energy Efficiency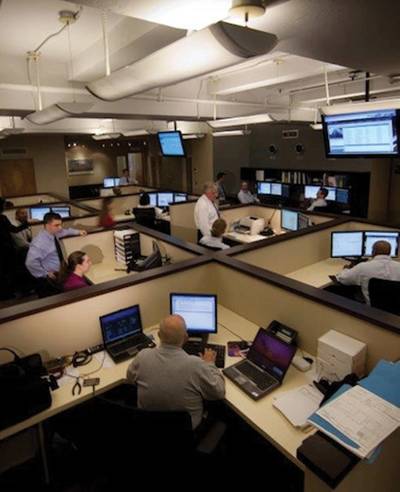 "Set it and forget it" may work well for rotisserie cookers, but that approach can be disastrous for shipboard HVAC systems.
It's not uncommon to find that the last time an HVAC system's settings were checked on board is when it is was first set – upon installation. Typically, claims energy advisory firm utiliVisor, the ships' engineers set the parameters and then go on their merry way. "A lot of marine companies mostly look at engine and generator performance, but no one is taking a look at chilled water, at the HVAC plant in any coordinated fashion," says Marc Graziano, a business development analyst at utiliVisor.
Over time, that unchecked, deteriorating system can start leaking a few dollars here and there, eventually working its way up to a flood of money running invisibly down the drain.
And that's a big mistake when you consider that a ship going for the U.S. to the Caribbean, HVAC constitutes 20% of the ship's energy costs, according to Graziano. He suggests as a "conservative estimate," that when you count pumps, fans and compressor motors, you can be looking at 30% of your total energy bill.
"If you are spending 20% of your energy on the comfort systems and you can save 10% that is worth a 2% reduction on a ship's fuel bill. In the cruise industry, that turns out to be a tremendous sum of money. "If you are spending $20 million a year on fuel, that's a $400,000 savings," Graziano explains, adding that operators could see a quick pay back on service– between one to two years.
Sensing a huge opportunity, utiliVisor, which is known for its shore-based business in tracking energy use at plants and other commercial buildings, entered the market a little more than a year ago, offering a service to analyze vessel performance and recommend energy cost saving solutions to improve the efficiency of the vessel.
Its initial target sector is the cruise industry, where it has so far has signed one client. By comparison, the 35-year-old firm has 575 land-based clients, 75 on the plant side, with the rest of its business coming from major real estate companies and commercial offices.
UtiliVisor installs, reads and invoices utility submeters and offers recommendations to clients on how to improve the efficiency of their HVAC systems, based on its analysis of real-time intelligence. Of particular focus is the optimization of chilled water generation environments, boiler/heating plants and co-generation (CHP) systems.
"We can help users with large heating and cooling requirements, like cruise ships, improve performance and save money. Most of these plants do not have metering on those machines, which means they have no viewpoint into the performance of these plants,'' Graziano says. "In most instances, ship owners will be able to realize a significant reduction in fuel costs in a relatively short period of time. We are confident that owners will realize as much as 10% annual savings for most vessels, with a payback on capital investment in as little as a year," claimed Tim Angerame, a Director at utiliVisor, at the launch of the company's marine service program last year.
The company is hoping to become a component of mandatory Ship Energy Efficiency Management Plans (SEEMP), which provide a framework for developing best practices for energy efficient operations. "We think our program of thorough monitoring, analysis and metering can validate that these [SEEP] programs are useful and how much fuel or money is being saved," said Graziano.
The company services marine clients from its Global Monitoring Center staffed with licensed marine engineers, who remotely monitor the vessel's operations, identify problems affecting performance and offer energy savings solutions based on predictive analysis and modeling of different operations scenarios.
"When the crew implements our recommendations, changes set points and sequence of operations, they will see an increase in energy performance and cost. We can ID that cost to the owner within 24 hours."
The center is tied into the onboard automation system. Operators pay a fee to connect to the software that tracks the energy data, and then a monthly analysis or monitoring fee to cover continuous review of data, according to Graziano
That buys services such as: daily fuel usage and voyage reports, data reports to help validate emission regulation compliance, fuel consumption predictions based on history and forecast operations designed to inform fuel purchase decisions, ability to integrate weather conditions into one platform, a base line analysis of a ship's energy operating costs, by ship system, and an analysis of energy savings solutions for each vessel. It can also produce environmental reports showing how many tons of fuel consumed, how many tons of carbon dioxide went into the air and how many tons of particulate matter, etc.
Data is transferred via a satellite uplink, and clients generally submit data to the monitoring center several times a day, getting back auto-generated emails with daily or hourly reports in return, covering fuel usage, bunkering – whatever they are looking for. "The goal is to make sure the fuel bought and consumed matches what they pay at the dock. Some crews are worries certain ports overcharge for fuel. We can tell pretty quickly."
Or the operator might get a recommendation to change the temperature on the condenser on the chilled waterside, resulting in "changes you can make in five minutes, that will provide energy savings pretty quickly," or a way to make the compressor motors work a little less hard to achieve the desired result.
Boilers are another area that could stand a closer look. Engineers look at the boilers, but not usually at the individual diagnostics on them. "Most of the boilers on these ships are glorified heating systems."
Over time, if an operator adds more ships to the program, utiliVisor can compare vessel performance across a class of ships, even across similar or same equipment.
(As published in the October 2014 edition of Maritime Reporter & Engineering News - http://magazines.marinelink.com/Magazines/MaritimeReporter)