Seaspan's Selects PEMA Equipment for NSPS Project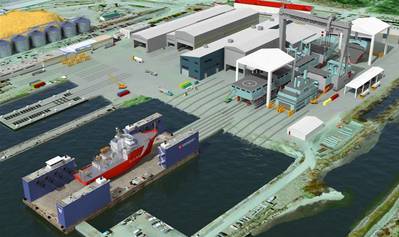 The National Shipbuilding Procurement Strategy (NSPS) is an initiative of the Canadian Government to build new ships for the Royal Canadian Navy and Canadian Coast Guard. Seaspan's Vancouver Shipyards won the right to bid on the non-combat vessels under this strategy, and as such is proceeding with a $200 million Shipyard Modernization Program to support execution. As a part of modernization project, Seaspan selected PEMA welding automation equipment for their panel production.

The contract includes a PEMA one-side welding station and stiffener mounting and welding stations equipped with PEMA WeldControl 100 system. The line is also equipped with a special covered conveyor solution to make working on the line safer and to transport welded panels smoothly.

Seaspan chose the PEMA automation due to the strategic co-operation between Pemamek Oy Ltd. and Lincoln Electric Co. The PEMA welding automation lines use Lincoln PowerWave welding power sources. Lincoln and PEMA equipment together made the solution unique and suitable for shipyard's needs.