Heavy Duty Floodlight Is a Match For Any Job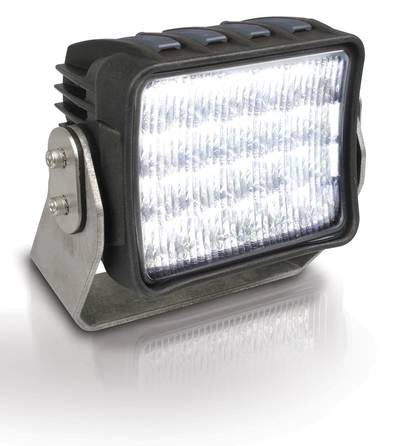 Working ships require reliable illumination that withstands the most demanding tasks in the harshest marine environments. Hella marine specifically addresses commercial vessel needs with its new ultra heavy-duty AS 5000 LED floodlight. This 5,000+ lumen LED lamp provides highly effective and dependable illumination while drawing only 60 W, or 5 amps at 12V and 2.5 amps at 24V.

Hella's precision optical engineering a crisp white color that closely simulates daylight. Unlike some warmer halogen lighting, the 5700K color temperature reduces eye strain and fatigue. The floodlight gives users the option of either a wide or narrow light distribution pattern, and uses a rugged Grilamid lens.

The completely sealed IP 6K9K floodlight shrugs off water and contaminants. The lamp's die-cast aluminum body is protected by a bonded-on, non-stick coating that resists cleaning chemicals and will not peel, flake, corrode or discolor from UV exposure.

As durable inside as it is outside, the AS 5000 LED features state-of-the-art advanced Multivolt 9-33V DC electronics. The lamp remains safeguarded from reverse polarity input and short circuit faults, and provides continuous operation even under severe voltage fluctuations and low battery voltages. Should the charging system malfunction when the light is on, the lamp automatically enters a reduced power mode to prevent battery drain.

The AS 5000 LED operates effectively even in extreme temperatures, from -40º F to over 122º F, thanks to integrated thermal protection of the electrical components. Tested to handle the most punishing working conditions, the floodlight endures such commonly encountered hazards as vibration, shock and high impact.

Pre-wired and sealed cable assemblies make for quick installation, while the solid 316 stainless steel trunnion bracket ensures a solid and secure mounting. The floodlight's heavy-duty cable gland adds extra resistance to strain. The unit weighs about 5.73 lbs. and measures approximately 8" W X 6.5" H, including the bracket.

As with all Hella LED lamps, the AS 5000 LED Floodlight is backed with a five-year warranty. Suggested retail price is $1,400.