GNS, SIRM Join to Povide Cloud-based Services for Ship Managers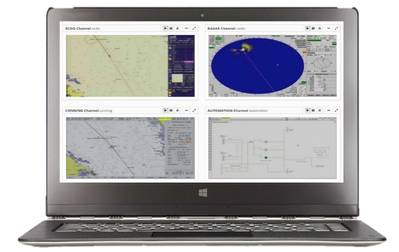 The maritime technology company Global Navigation Solutions (GNS) and the supplier of navigation and telecommunications equipment and services SIRM have announced a new strategic partnership.

The new partnership will combine GNS's expertise in data intelligence, back of bridge software and navigation with SIRM's cloud-based services and telecommunications capability to deliver a new generation of ship-shore technology solutions and enhance office-based situational awareness.

"Agreement will leverage GNS's unique data and software capabilities and SIRM's cloud computing and ship-shore communications expertise," said a press release from GNS.

The first focus area of the new partnership is the integration of SIRM's FleetOnCloud®and GNS's Voyager FLEET INSIGHT solutions to enable owners and managers to track vessel movements, monitor performance and support incident management from shore.

Voyager FLEET INSIGHT platform is GNS's easy to deploy, easy to use web-based data analytics software solution that monitors vessel movements, identifies unnecessary navigation spending, makes navigation compliance simpler and helps keep track of compliance KPIs.

FleetOnCloud is a flexible, secure and scalable way to connect ship company logistics, engineering and navigation departments directly with the data and information produced by the fleet.

"We are on the cusp of a technology revolution in the marine industry. With data volumes increasing and real-time intelligent response a necessity of doing business, companies are becoming more dependent on technology," says Luca Cesare, CEO, SIRM.

"Working with GNS to bring together our communications expertise and GNS's maritime solutions excellence, we are well-equipped to help companies solve the tough technology challenges, improve operational efficiency and enhance safety," Luca added.

The GNS and SIRM solution uses a cloud-based architecture, which is easily scalable and has high security standards for data protection, enabling data to be retrieved, loaded and displayed faster.