Keel Laying Ceremony for 2 GPA-Designed Research Vessels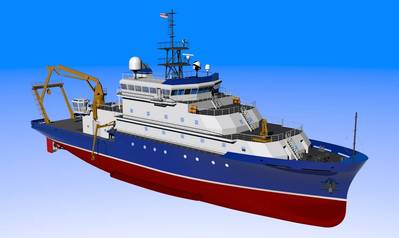 On August 17, 2012, the keel laying and dedication ceremony for AGOR-27 and 28, the first two of a new class of advanced Oceanographic Research Vessels, took place at Dakota Creek Industries (DCI) in Anacortes, WA.
Naval Architecture & Marine Engineering firm Guido Perla & Associates, Inc. (GPA) designed this vessel during a Phase I design competition. GPA is now providing detail and production engineering for DCI throughout the construction phase. The $145 million Navy-owned vessels, designed as seagoing laboratories, will be operated by the Woods Hole Oceanographic Institution and the Scripps Institute of Oceanography and support ocean science for the next 30 years.
Since being awarded the project contract, GPA has completed several demanding deliverables within schedule requirements as well as provided in-depth progress status to DCI and NAVSEA on a reoccurring basis. These deliverables included: providing the complete functional design, developing a substantial amount of work packages, and completing significant portions of the 3D ShipConstructor model used for production. This allowed DCI to begin production immediately once authorized by NAVSEA. "We are extremely pleased to be able to continue our long and productive relationship with GPA," said Dick Nelson, Owner and President of DCI. "They have been our partner throughout the entire process, providing tremendous value from the start of design and now into production."
GPA brings a high level of knowledge and experience to the implementation of all of these systems due to the company's accomplishments across multiple sectors of the marine industry. With a 33 year track record of success, GPA is able to combine the complex needs of the oceanographic research industry with some of the more practical solutions used in such applications as offshore oil, fishing and towing operations. Approximately 200 GPA-designed vessels, equipped with such systems, have been delivered or are currently under construction throughout the world.