First Guyanamax Ship Joins CMA CGM Fleet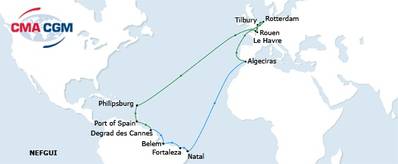 The CMA CGM Group upgrades its fleet calling North Brazil, French Guyana and the
Caribbean
; takes delivery of the CMA CGM Cayenne, the first vessel of the Guyanamax three-vessel series
Container shippers the CMA CGM Group announce that the CMA CGM Cayenne, the first vessel of its three-vessels Guyanamax series, was delivered on July 21 in South Korea.
The 2,100 TEU capacity vessel – including 530 Reefer containers – is 190 meters long and 30 meters wide. It was built by the Korean shipyards Hyundai Mipo Dockyard and will be sailing under the U.K. flag.
The CMA CGM Cayenne will be positioned on the North Europe French Guiana North Brazil (NEFGUI) line. This 42-day rotation joins directly North of Europe, the Caribbean, French Guyana and North Brazil each week. The vessel will call: Algeciras, Rotterdam, Tillbury, Rouen, Le Havre, Philipsburg, Port of Spain, Degrad des Cannes, Belem, Fortaleza, Natal and Algeciras.
In line with the sustainable development policy of the group, the CMA CGM Cayenne is equipped with all the latest
environmental technologies which
reduce its C02 emissions, as well as the group's carbon footprint. It is equipped with new bulbous bow shapes improving the hydrodynamics of the vessel at a speed of 16 to18 knots, an electronically controlled long stroke engine offering the best in fuel consumption, a twisted leading edge rudder with bulb and a ballast water treatment system.
First of the three Guyanamax ships to join the group's fleet of 465 vessels, the series will be completed in August and September as the CMA CGM Marseille and the CMA CGM Saint Laurent will also be positioned on the NEFGUI line, thus increasing the line's capacity by 18 percent.
By strengthening the capacity of the NEFGUI line, calling ports in North Brazil, Guyana, Trinidad and Tobago and Sint Marteen, the
CMA CGM Group said
it adapts its offer to the market's demands and positions itself as a leader in the area.