Interlake Steamship Begins 2016 Sailing Season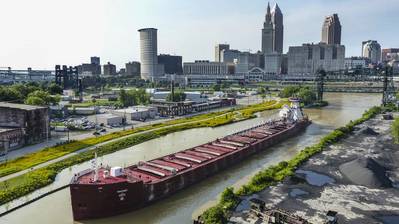 River-Class Tug/Barge Begins Shuttling Iron Ore on Cuyahoga River
The Interlake Steamship Company's Dorothy Ann-Pathfinder, an articulated tug-barge unit (ATB), departs winter layup today to begin early-season shuttles of iron ore for ArcelorMittal, an integrated steel and mining company with blast furnaces at the head of the Cuyahoga River.
A workhorse of Interlake's nine-vessel fleet, the combined 711-foot Dorothy Ann-Pathfinder is one of Interlake's two River-Class vessels, a designation given to ships that can traverse the narrowest harbors of the Great Lakes.
With its Z-drive propulsion systems, the Dorothy Ann-Pathfinder is the most maneuverable vessel in the U.S. Great Lakes fleet.
"We are excited to kick off our 2016 navigation season with longest River-Class vessel capable of transiting the
winding Cuyahoga River
," said Brendan O'Connor, Interlake's Vice President of Marketing and Marine Traffic.
This Spring also signals the successful completion of the company's more than $100 million in fleet modernization as well as continuous emission-reduction improvements.
"These significant investments represent Interlake's long-term commitment to the Great Lakes shipping industry and the customers we serve," O'
Connor said
.
Interlake will complete its steam plant conversion program that began in 2006 with its final vessel, the Herbert C. Jackson. The Jackson will sail in June as a modern and efficient River-Class vessel when its current repowering is completed at Fraser Shipyards in Superior, Wis.
Interlake is also
installing exhaust gas scrubbers
on two additional vessels – the M/V James R. Barker and the M/V Lee A. Tregurtha – at Fincanteri Bay Shipbuilding in Sturgeon Bay, Wis.