Raytheon Anschütz IBS for Intership Bulkers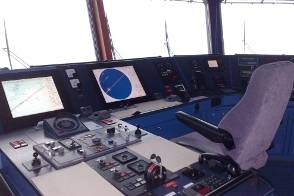 Raytheon Anschütz was recently awarded a contract to supply their Integrated Bridge System (IBS) to two new bulk carriers. The bulkers will be built at New Times Shipyard in Jingjiang, China. The delivery to the Cyprus based shipping company Intership Navigation Co. Ltd., a member of the German Hartmann Group, is scheduled for August and October 2011.

The new bulkers, each with a capacity of 176,000 dwt, will be equipped with full integrated bridge systems. The installation of the bridge systems takes place under the combined supervision of Raytheon Anschütz Shanghai and Raytec Marine Co. Ltd., a subsidiary of Intership and responsible for the technical service of the vessels.

Raytheon Anschütz supplies its NSC radars with the new wide-screens and chart radar functionality. Advanced anti-clutter and collision avoidance functions are included to increase efficiency on the watch. The latest generation of NSC ECDIS features the automatic route planning function, which is designed to reduce the planning even of a demanding route to a handful of clicks. The scope of supply further covers the trackpilots and the manual steering control systems, as well as the complete set of sensors and the radio stations.

During the past years, Raytheon Anschütz has sold more than 600 of its Integrated Bridge Systems. Approximately every third of them is delivered for installations at Chinese shipyards.