Sea IT, Veritas Tankers Ink Long-term Software Deal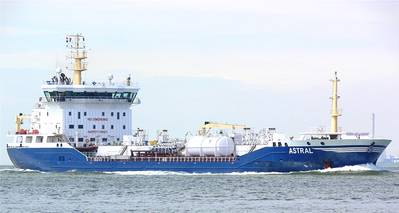 Sea IT has entered a long term ICT agreement with Veritas Tankers. The agreement comprises installation of BlueCORE Generation 4, an ICT platform specifically developed for the marine industry, and BlueCONNECT, a virtualized software which acts as mail server and carrier controller.
Veritas Tankers will upgrade and have the installations made on all its vessels: Astina, Astral and Astoria. Sea IT will support Veritas Tankers during a three-year period though the Fixed BlueCORE ICT agreement.
"This agreement gives us excellent operational ICT performance and minimizes the need for expensive and fragile hardware," said Ove Johnsson, CEO at Veritas Tankers. "We can enjoy greater operational control and focus on what we do best [shipping] while relying on Sea IT experts for support if ever needed."
BlueCORE is a future proof IT and
communication solution developed
by Sea IT for the demanding conditions in marine environments. Equipping Astina, Astral and Astoria with BlueCORE enables Veritas Tankers to regard its ship as remote office locations with real-time,
online access
to internal applications.
According to its developer, BlueCORE is a cost efficient, modular platform which supports Veritas Tankers business objectives. It is built to optimize business processes, reduce operational costs and to ensure maximum efficiency by utilizing all available IT resources onboard. It enables a seamless integration between the crew onboard and the office. With BlueCORE Veritas Tankers can integrate and structure all programs from various departments – from Technical and Operations; Chartering; Health Safety Environment & Quality; Human Resources to third parties for fuel consumption, sea chart updates and more.
"Veritas Tankers has fully embraced the ICT concept and understands its business benefits, therefore we look forward to the upcoming years and hear more about increased efficiency and cost savings," said Kristian Ryberg, CEO at Sea IT. "With BlueCONNECT they will always know exactly which communication systems are available and which ones currently are in use."
Flexible, scalable and easy-to use platform, BlueCONNECT, which integrates with BlueCORE, has been developed to support all leading email solutions. BlueCORE is a completely open architecture for M2M management and fully supports integration of future third party products. Third party products can be integrated to further reduce costs for Veritas Tankers, for example maintenance costs.
Sea IT offers BlueCORE to its customers with products and services from global partner companies such as Inmarsat,
Cobham
, Sailor, Sea Tel, Jotron, Orbit, Cisco, HP and Microsoft which require none or minimal technology updates.