Marine Electronics: ComNav P4 Autopilot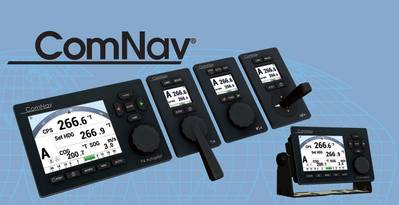 ComNav has launched the new P4 Autopilot, an adaptive autopilot system designed for all vessel types.

Featuring a large 5.7" display, the ComNav P4 autopilot was built for effortless operation and intuitive control with easily accessible, customizable parameters for commercial fleets, fishing boats, yachts, and tugs. The P4 is equipped with ComNav's Intelligent Steering Technology or 'IST'.

The P4 has automatic Sea State adjustment for course holding in all weather conditions. With proportional rate control, the unit supplies a smooth response at fast cruising speeds. The ComNav P4 provides precise track steering with NAV Mode.

The ComNav P4 includes a number of pre-set turns. Port and starboard dodge buttons help avoid collisions. Thruster assist provides dead-ahead slow or station keeping.

Fully compatible with most onboard instruments and steering systems, the ComNav P4 is Network autopilot that employs NMEA 0183 and NMEA 2000 input/output ports. The P4's Auto Setup automatically detects and calibrates steering drive unit and compass, which streamlines installation and commissioning. The autopilot is compatible with 360° Azimuth Drives, thrusters, and conventional rudder steering applications.

The ComNav P4 is built to withstand harsh weather conditions and is waterproofed to the highest IP67 standards. Extended 3-year warranty is standard equipment.