Matson Christens 'Kaimana Hila'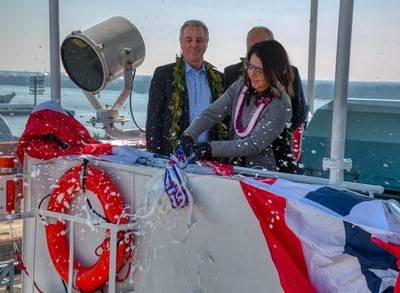 Largest Containership Built in U.S. Will Serve Hawaii

Matson, Inc. and Philly Shipyard, Inc. (PSI) christened the second of two Aloha Class containerships built for Matson in a ceremony at Philly Shipyard on Saturday, March 9.
Dubbed Kaimana Hila, it is the sister ship to Daniel K. Inouye, which entered service in November of 2018. "Kaimana Hila" is a Hawaiian transliteration for "Diamond Head," the name of Hawaii's iconic landmark crater near Waikiki Beach.
The ships cost $418 million for the pair, and are the first of four new vessels that Matson will put into its Hawaii service during the next 18 months.
Matson invited U.S. Congresswoman Tulsi Gabbard of Hawaii to officially christen the vessel by breaking a ceremonial bottle of champagne against the ship's navigation bridge super-structure.
At more than 51,400 metric tons, the 850-ft. long, 3,600-TEU capacity Kaimana Hila and Daniel K. Inouye are Matson's largest ships and the largest containerships ever built in the U.S. They are also Matson's fastest vessels, with a top speed of nearly 24 knots. Both ships are powered by dual fuel engines that can be adapted to use liquefied natural gas (LNG), as well as feature double hull fuel tanks, fresh water ballast systems and a fuel efficient hull design.