Simrad Debuts New 27" HD Monitor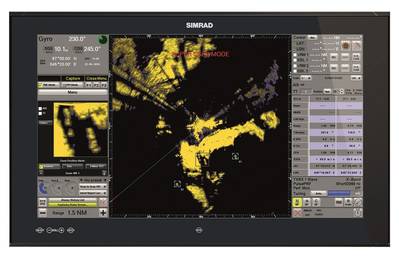 The new Simrad M5027 optically bonded HD monitor for the commercial marine market is a 27" marine monitor designed to meet the color calibration requirements of ECDIS systems and the size requirements of 320mm CAT1 radar systems.
According to the manufacturer, the Simrad M5027 monitor is built for long term, reliable operation with an optical bonded LCD as standard. Optical bonded displays eliminate the "air gap" issues of
condensation
, overheating and contamination common in lesser quality displays. Reliable touch menu controls and IPX6 rated water resistant flush mounting also contribute to long life design.
Jose Herrero, MD of Simrad Commercial marine Division, said, "TheSimrad M5027 monitor really does add to the appearance and elegance of a Navico styled CAT 1 GLASS-Bridge," adding, "It has set the industry standards of monitors with its improved readability of the UI due to enlarged crystal-clear text and graphic information."
When flush mounted, the Simrad M5027 monitor has a low profile (8mm) all-glass design, and complies with IP66 water resistant regulations. HDMI and DVI inputs are standard, as well as auxiliary analog video inputs. Bracket mounting or table top mounting options are planned to be available.
Presenting a viewing area that is 597mm x 336mm, this extra-large widescreen features 20 percent more viewing area than a traditional 23" display. Crisp HD resolution of 1920x1080 pixels and MVA technology provide optimal viewing from anywhere on the bridge or pilothouse. Mariners benefit with larger informational workstations, less cluttered on-screen menus and improved, clarity of data presentation.
As part of the type approved M-series family of Simrad monitors, the M5027 takes its place as the flagship of the monitor portfolio. The type-approved monitors in the M-seris now include the M5016 (16"WS) and M5019 (19"WS) for 180mm radars, the M5024 (24"WS) for 250mm radars or ECDIS and the new M5027 (27"WS) for 320mm radars and ECDIS display.
Available in both AC or DC versions, the Simrad M5027 will be included in Simrad radar and ECDIS packages. The Simrad M5207 will begin shipping in August 2016.