New Moose Boat For SFFD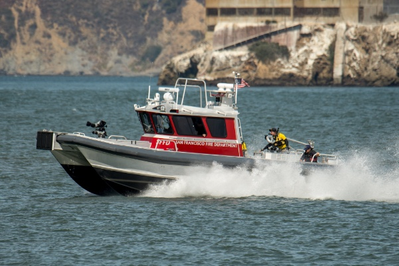 Moose Boats delivered a M2-38 Catamaran CBRN, Dive and Fire Rescue vessel to San Francisco Fire Department.
A pair of Cummins QSB6.7 425hp turbo diesel propulsion engines with Hamilton HJ292 water-jets will power the M2-38 aluminum catamaran. Serving primarily as a dive and rescue boat, the M2 is outfitted with an integrated dive/recovery platform and a bow ladder for beach rescues.
Due to the Moose Boat's Homeland Security role, it is also equipped with a Hale fire pump flowing in excess of 1,500 gallons per minute of fire suppression water, radiation detection equipment and CBRN positive pressure cabin air filtration. A heavy-duty push knee will enable the M2-38 to come in contact with larger vessels and San Francisco's many piers.
San Francisco Fire Department's new Moose Boat has a host of electronics including a Simrad multi-function navigation screens, radar and 3D side scan sonar, L3 AIS, FLIR stabilized thermal imaging camera, Motorola and Icom communications radios and an OTS diver recall system.
SFFD's Marine Unit responds to hundreds of shoreline and open-water search and rescue calls per year so the new M2 is outfitted with a cabin roof observation tower and an array of high-powered searchlights.