Port of Oakland's Export Rally Rolls On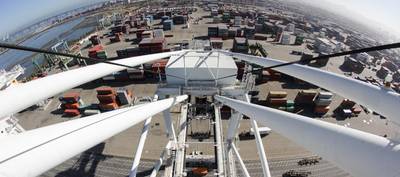 It's official; a containerized export rally is underway at the Port of Oakland.
The port reported that export volume increased 5.1 percent in May over the same period a year ago. It was the fifth-straight month of export gains in Oakland and the highest volume in 17 months.
The port said that it shipped the equivalent of 83,969 loaded 20-foot export containers last month, the most since October 2014 when it shipped 86,065 boxes.
According to the port, a slightly weaker dollar has contributed to the export rally, as U.S. goods become more affordable overseas with the dollar's value decline.
Oakland cargo volume traditionally has been weighted more toward exports than imports. Exports accounted for 52 percent of Oakland's loaded container volume in 2016 through May, the port reported.
Year-to-date, Oakland export volume has increased 13.6 percent over 2015, the port said, adding that import volume is up, too, increasing 12.3 percent so far this year. May imports increased 3 percent from May 2015 totals.
The port's total container volume is up 8.4 percent so far this year. Total volume includes loaded import and export containers as well as empty containers.