Oil Spill from Sunken Tanker Threatens Marine Ecosystems in the Philippines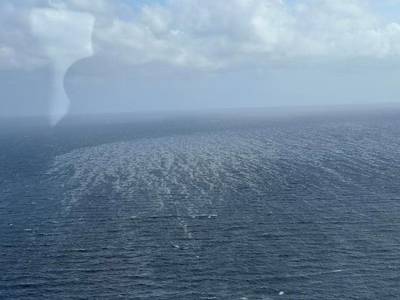 Environment and disaster authorities in the Philippines rushed to contain an oil spill on Friday from a sunken fuel tanker that has reached coastal towns on a large central island, warning of dangers to marine ecosystems if more oil leaks.
The tanker, MT Princess Empress, was still missing on Friday after sinking en route to Iloilo province carrying about 800,000 litres (211,338 gallons) of industrial fuel oil.
The vessel encountered engine trouble on Tuesday due to overheating and drifted due to rough sea conditions, according to the coast guard. It was not immediately clear what caused it to sink but all 20 crew were rescued before it went down.
Carlos Primo David, undersecretary at the environment ministry, said it was crucial authorities find the tanker soon as there could still be a large volume of oil inside.
"If we can recover it that will help us a lot in containing the spill," he said in a media briefing.
"Bear in mind that the cleanup will be more difficult if more oil reaches coastal areas."
Environment Secretary Maria Antonia Yulo Loyzaga said a rapid assessment was being undertaken of coastal and marine habitats that could be impacted.
At risk of damage was approximately 591 hectares of coral reefs, 1,626 hectares of mangroves and 362 hectares of seagrass, the ministry said.
"The possible contamination might actually affect the viability of these systems," Loyzaga warned in a recorded message on Thursday.
The disaster agency in a statement said the oil spill had reached coastal areas of several municipalities in Oriental Mindoro, the eastern half of Mindoro island.
Advocacy group Earth Island Institute PH called it "a potential environmental disaster", likening it to a 2006 incident when a tanker carrying 2.1 million litres of bunker fuel ran aground in central Philippines.
(Reporting by Enrico Dela Cruz; Editing by Martin Petty)