Oldendorff Revives Newbuild Contracts at Samjin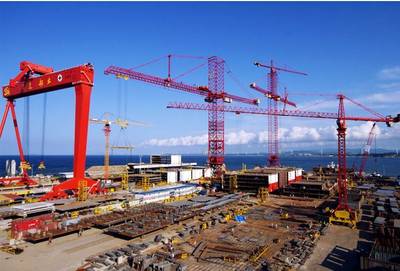 Last month saw the resurrection of two newbuilding contracts, which Oldendorff had concluded originally in June 2012 with Weihai-based Samjin Shipbuilding Ind. Co Ltd (SSI), at the time controlled by Korean shareholders. The initial order was for four 36,000 dwt Handysize newbuildings of the Korean designed FESDEC-36k eco type.
The yard went through financial restructuring due to the problems of its Korean parent, leading Oldendorff to cancel all four ships and recollect its down payments in 2014 and 2015 after excessive delays. Roughly 50 percent of the building blocks were completed at that time.
Samjin was acquired last year by the diversified Shanghai ZHOUJI Group, who brought in an experienced Chinese workforce and also 40 management staff from Korea.
On August 2, 2017, Oldendorff signed new contracts for two of its original hull numbers (#1058 and #1059) for delivery in the autumn of 2018 and January 2019. At the same time Oldendorff concluded time charter contracts with a major trading house for four to five years time charter on both vessels.
The new vessels feature 4 x 35 tons Mitsubishi cranes, a Wärtsilä / WinGD main engine, MAN-B&W auxiliary engines and Mewis fuel saving ducts. The cargo holds have a generous cubic capacity of 47,500 cbm, a tanktop strength of 25 tons per sqm and a high flexibility for heavy bulk parcels and
steel cargoes
.
In the years since 2012, Oldendorff has invested more than $2.25 billion in 89 vessels. The group's buying program was divided equally among all four segments: 22 Capes (incl Newcastlemaxes and Baby Capes), 22 Panamaxes (including Post-panamaxes and Kamsarmaxes), 22 Ultramaxes and Supramaxes and 22 Handies, plus one transshipment platform. Oldendorff has focused on large capacity ships: either eco newbuildings or resales typically around five year old, well-equipped secondhand ships.