Cummins Engines Power New Philippine Ferry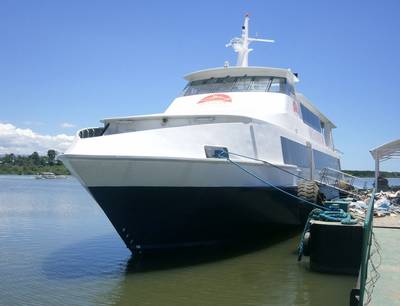 Ocean Fast Ferries, based in Cebu, has received the latest additon to its ferry fleet from builders Golden Dragon Fastcraft Builder, Inc. The M/V 'Ocean Jet 88' was designed by Australia's Global Marine.
The vessel's water line length is 29.63 meters with a one-meter draft.
A pair of Cummins KTA50-M2 engines each delivers 1600 HP at 1800 RPM to ZF4650 gears with 2.467:1 reduction. These turn 1221 m/m propellers on 133.35 m/m shafts, which gives the aluminum craft a speed of 28 knots at fully rated horsepower.
With a crew of 16 the ferry can accommodate up to 357 passengers. Tankage includes 6000 liters of fuel and 1000 litres of water. A pair of Cummins 4BTA-powered generator sets provides electrical power.