PNSY Returns Submarine 'USS Pittsburgh' to the Fleet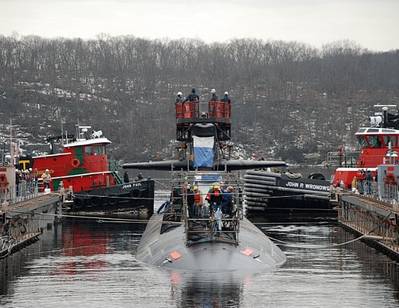 Portsmouth Naval Shipyard (PNSY) has delivered Los Angeles-class attack submarine 'USS Pittsburgh' (SSN 720) on-time and under budget after drydock overhaul.
PNSY conducted the Pittsburgh pre-inactivation restricted availability (PIRA) off-yard at Sub Base New London in Groton, Conn. beginning Sept. 5, 2012. Although PNSY routinely performs work off-yard, this was the first major Chief of Naval Operations availability of more than 100,000 man-days which PNSY executed outside of Kittery, Maine.

"Off-yard availabilities are unique and require an all-inclusive team mentality from planning to execution," said Don Robinson, deputy project superintendent. "The can-do attitude of our entire team made small work of even first-time challenges throughout the execution period." 

The project team and crew's combined pride and work ethic drove them to success as they met the overhaul's key dates including undocking three days early - none of which would have been possible without the maintenance partnership with the Pittsburgh crew lead by commanding officer, Cmdr. William Solomon.



"Cmdr. Solomon and the crew of Pittsburgh were side-by-side with the shipyard in overcoming each and every obstacle," said, Capt. James Kalowsky, PNSY operations officer. "They truly exemplified the ship's motto and displayed a 'heart of steel.'" 


The on-time and on-budget completion of submarine availabilities is critical in the maintenance of today's fleet and is essential to maintaining readiness. PNSY say they remain devoted to the technical excellence and judiciousness that is required to meet schedule and budget demands.