Rolls-Royce to Power Korean Naval Frigates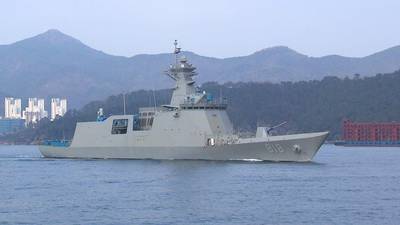 Rolls-Royce said it has won a contract to supply MT30 marine gas turbines to power the next three ships in the Republic of Korea Navy's Daegu-class frigate program.
The frigates are intended for a variety of missions including anti-submarine warfare, anti-air warfare, patrol, surveillance, search and rescue, protection of EEZ and transport.
In all Eight Daegu-class frigates (also known as FFX Batch 2) are scheduled to be built, the first of which is being built by Daewoo Shipbuilding and Marine Engineering (DSME) and was launched at DSME's Okpo shipyard in June 2016. The second ship will also be built by DSME, while ships three and four will be built by Hyundai Heavy Industries (HHI) SNSD.
The MT30 gas turbines for ships two and three are due to be delivered in the second half of 2018, and for ship four very early in 2019, Rolls-Royce said.
Don Roussinos, Rolls-Royce, President – Naval, said, "Our continued supply to this program validates our ongoing relationship with DSME and HHI. The Daegu class is an exciting program. It is the world's first frigate to use a single MT30 in the compact package and our first application for MT30 outside the U.K. and U.S. markets. The MT30 gas turbine has been successfully installed in ship one and is currently successfully supporting the commissioning of ROK Daegu's propulsion system. We understand that MT30 has powered the ship to meet its full speed requirement."
The MT30 is derived from Rolls-Royce Trent aero engine technology and builds on over 45 million hours of operating experience and ultra-high reliability. It is initially built as separate modules on the same build line as the Rolls-Royce Trent aerospace engines in Derby. It is then assembled and tested at the company's Bristol facility.
With testing complete, the MT30 engine is shipped to Korea,
where Hyundai Heavy Industries
(HHI) Engine & Machinery Division integrate it into the steel enclosure which also houses the air inlets, exhausts and ancillary equipment, prior to installation in the ship.
Rolls-Royce MT30s are in service with the U.S. Navy's Freedom class Littoral Combat Ship and already powering the Zumwalt class. MT30 has been selected for the Royal Navy's Type 26 Global Combat Ship and is powering the Royal Navy's new Aircraft Carriers. On HMS Queen Elizabeth the two MT30 gas turbine alternators have now been released to full power. MT30 has been recently selected for the Italian Navy's new Landing Helicopter Dock.