SAAM Towage Orders Tug Pair from UZMAR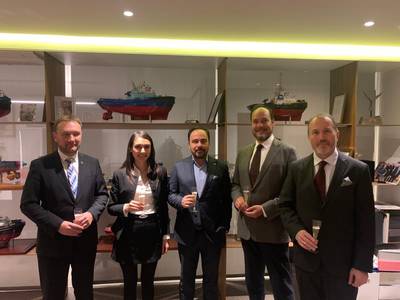 SAAM Towage said it signed a contract with Turkish shipbuilder UZMAR Shipyards to begin building two new tugs that will provide services for a liquefied natural gas (LNG) project being developed by Energía del Pacífico (EDP) in El Salvador.
The new RAstar 3200W azimuth tugs were designed by Canadian firm Robert Allan Ltd. and will be built in Turkey by UZMAR. They will measure 32 meters in beam, have a bollard pull of 75 tons and can reach a maximum speed of 12.5 knots. They will also have superior steering and breaking capacity for escort operations, according to SAAM Towage.
SAAM Towage technical manager Pablo Cáceres said, "This is the first step for our company to enter El Salvador, where we will begin providing support services in 2021 for this project, which key to the country's energy supply and will strengthen our presence in the region."
SAAM Towage El Salvador is SAAM's second fleet to receive a vessel with these features built by UZMAR. The first was SAAM Towage in Canada, which has operated the Tsimshian Warrior at the AltaGas terminal since 2019. The vessel is the company's first IMO Tier III certified tug.
SAAM Towage–with operations currently in Brazil, Canada, Chile, Costa Rica, Ecuador, Guatemala, Mexico, Panama and Uruguay–operates a fleet of more than 155 tugs at over 60 ports in the Americas, servicing around 25,000 ships a year.