Bay Ship & Yacht Services Research Vessels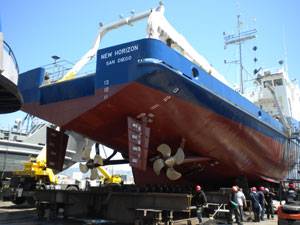 Dawn has broken over the Bay Ship & Yacht shipyard, located on San Francisco Bay in the island City of Alameda, as the yard-crew carefully rolls the cradled Research Vessel or R/V New Horizon from her work station, along the rails to the yard's new 1200-ton Syncrolift, which gently lowers the vessel into the estuary that separates Alameda from Oakland. Sparkling in the morning sun, the 170-by-36 ft vessel, weighing almost 800 tons, had undergone several weeks of underwater hull and machinery repairs at the yard. Once back in the water, she headed to her home port at the University of California's Scripps Institution of Oceanography in San Diego to join the three other vessels of the research fleet.
Other R/Vs that have been dry-docked recently at Bay Ship & Yacht include
- Two vessels from the Monterey Bay Aquarium Research Institute (MBARI), comprising the 117-ft, twin-hull R/V Western Flyer and the 110-ft converted oil-field-supply vessel R/V Point Lobos.
- The 90-ft R/V Robert G. Brown Lee, designed specifically for high-school students of the San Francisco Bay and Delta areas and serving the educational needs of as many as 42,000 students each year;
- The 135-ft R/V Point Sur operated by the Moss Landing Marine Laboratories and owned by the National Science Foundation for conducting regional research;
- The 184-ft R/V Wecoma, owned by the National Science Foundation and operated by Oregon State University's College of Oceanic & Atmospheric Sciences from Newport on the coast of Oregon. .
- The 209-ft "Oscar Dyson," built for NOAA in 2003 and home-ported at Kodiak, Alaska as the first a fleet of fisheries-survey ships;
- The former 224-ft US Navy ship, "Capable," now transformed into NOAA's "Okeanos Explorer" and dedicated to deep-ocean exploration, initially in the Pacific. The ship has a 6,000-meter, tethered, ROV (Remotely Operated Vehicle) and a satellite dome for transmitting data.
Business Development Manager, Ira Maybaum emphasizes that "Bay Ship & Yacht, the only full-service shipyard between
southern California
and the Columbia River, welcomes R/Vs and other vessels of all types for a complete range of repair and maintenance services."