UK-built Mussel Boat for Offshore Shellfish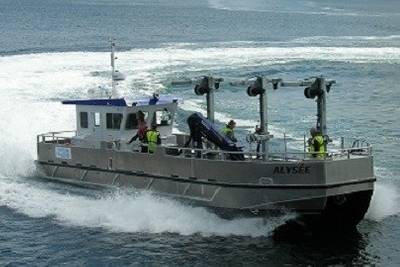 U.K. based boat builder Alnmaritec announced it has designed and built a new 15.2-meter aluminum Wave Farmer 1400 mussel farming boat, Alysée, for U.K. shellfish farmer Offshore Shellfish.
Developed from Alnmaritec's Wave Train catamaran hull form, Alysée has been configured and customized to meet the specific needs of Offshore Shellfish, including a number of precise pieces of equipment, the builder said.
When commissioning the build project, Offshore Shellfish sought a boat with excellent maneuverability, a stable working platform and the ability to access its offshore rope-grown mussel farms between three and six miles offshore in
Lyme Bay
, Devon, as quickly and fuel-efficiently as possible.
The company therefore turned to Alnmaritec as a repeat customer. "We have worked with Alnmaritec before and were impressed with the build and performance of a previous vessel, so it was an obvious move to come back to them this time," said Offshore Shellfish Director John Holmyard. "They know how we work and what we need from our boats."
According to the shipbuilder, Alysée is a very stable platform for offshore working, providing a comfortable ride in a range of sea conditions. She is fitted with three hydraulically-operated davits along the port side, each with a one-metric-ton winch and star wheel haulers on fold out arms, while removable railings allow a clear working area over the side of the vessel. In addition, she has a knuckle boom crane, capable of lifting one metric ton at any point on the working deck. Large lockers are integrated into the forward end, either side of the central anchor locker, with additional deck lockers to the front and side of the wheelhouse.
Each of the two main Cummins engines has two sea water intakes for consistent performance, even when operating with a lot of debris in the water. Hamilton water jets with Blue Arrow controls give excellent maneuverability, even at exceptionally slow speed – particularly useful for berthing in tight spaces, and of prime importance on an offshore mussel farm. An auxiliary engine powers twin hydraulic pumps, supplying power to the davits, crane, anchor windlass and mussel processing equipment. All three engine rooms and the wheelhouse are sound insulated to give a more comfortable working environment.
The new vessel complies with the UK MCA code of practice for Small Commercial Vessels operating in sea area category 2, i.e. up to 60 miles from a safe haven.
"The team at Offshore Shellfish came to us because of our expertise in building tough boats. They operate in a niche sector with very specific requirements in terms of equipment and modifications," said Simon Pullin, project manager at Alnmaritec. "It has been a very interesting and rewarding project for our team, and we're looking forward to even greater challenges in the future."
It is this future requirement and the offshore nature of the John Holmyard's operation that is driving Alnmaritec now to develop a larger platform which could potentially allow the landing of up to 50 metric tons of mussels in one trip. The shipbuilder noted.
Alysée specification:
Length (OA): 15.2 meters
Beam (OA): 5.5 meters
Displacement (light): 19.5 metric tons
Payload Capacity: 10 metric ton
Speed (light): 21 knots
Main Engines: 2 No. Cummins QSC8.3 (500 horsepower)
Propulsion: 2 No Hamilton HJ364 with Blue Arrow Controls
Auxiliary Engine: Doosan PU066