Shipbuilders Give STEM Students Workplace Experience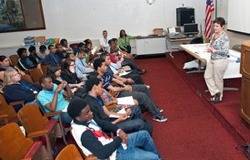 Newport News Shipbuilding host Science, Technology, Engineering & Maths (STEM) high school students for workplace intro.
Huntington Ingalls Industries announce that its Newport News Shipbuilding (NNS) division hosted 50 students and faculty from area high schools as part of Heritage High School's Engineering and Technology Magnet Program Seniors Internship and Newport News Public Schools' "Spring Break: Make It Work" job shadowing program. Both programs focus on the benefits of science, technology, engineering and math (STEM) in the workplace.
"In our rapidly changing workforce, STEM education is critical to ensuring that Newport News Public Schools students graduate college-, career- and citizen-ready," said Dr. Ashby C. Kilgore, superintendent of Newport News Public Schools. "The school system is a significant part of the equation, but our business partners provide important real-world experiences that help our students understand the relevance of what they are learning in the classroom. We are extremely grateful to Newport News Shipbuilding for providing STEM internships and job shadowing opportunities that help our students become even more competitive in our increasingly STEM-driven global economy."
HII has built more ships in more ship classes than any other U.S. naval shipbuilder. Employing nearly 38,000 in Virginia, Mississippi, Louisiana and California, its primary business divisions are Newport News Shipbuilding and Ingalls Shipbuilding.