USCG Approves JAX LNG for Ship-to-ship Bunkering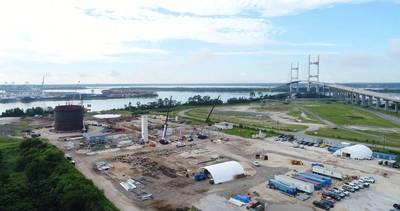 The joint venture between Pivotal LNG and Northstar Midstream, JAX LNG, LLC, has received a Letter of Acceptance (LOA) from the U.S. Coast Guard (USCG) for the operation of its waterfront LNG facility and the approval to conduct ship-to-ship LNG bunkering operations with TOTE Maritime's Marlin Class ships and the LNG barge, Clean Jacksonville.
The expectation is this ship-to-ship LNG bunkering operation will commence early in 2018.
In August 2015, JAX LNG and its partner TOTE Maritime received their first LOA from the USCG establishing an industry first landside LNG bunkering facility in the
Port of Jacksonville
. Since then, JAX LNG has delivered LNG to TOTE Maritime's LNG fueled container ships. In addition, Pivotal LNG has demonstrated the ability to conduct LNG bunkering operations while TOTE Maritime simultaneously loads and off-loads cargo at the port.
"The receipt of this second LOA demonstrates our commitment to our customers, the value of inclusive port stakeholder relationships and exhibits confidence in our rigorous operational risk analysis methodology," said Tim Hermann, president of Pivotal LNG.
JAX LNG, LLC said it is expected to be operational by end of 2017. JAX LNG's waterfront LNG facility in Jacksonville will be outfitted with a marine dock and truck loading capability. Operated by Pivotal LNG, the facility's initial daily liquefaction capacity will be 120,000 gallons of LNG per day and the facility will have 2 million gallons of storage capacity.
Pivotal LNG and Southern Company Gas operate a network of LNG production facilities with the capacity to produce over 554,000 gallons per day and the ability to store more than 96 million gallons.