BAE Systems to Expand San Diego Shipyard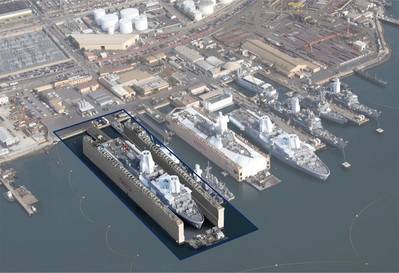 BAE Systems announced it will invest approximately $100 million to expand drydocking capabilities at its San Diego shipyard.
The investment, which will include the purchase of a new drydock and a range of infrastructure improvements at the yard, aims to enhance ship repair, maintenance and
modernization services
the company provides to the U.S. Navy, other government agencies and commercial customers, the company said.
BAE Systems made the announcement today during a ribbon-cutting ceremony dedicating a new pier at the shipyard along the San Diego waterfront. Scheduled attendees included U.S. Representatives Susan Davis,
Duncan Hunter
and Scott Peters.
"Our primary strategy and mission in San Diego is to support the U.S. Navy and its rebalance to the Pacific," said Erwin Bieber, president of BAE Systems' Platforms & Services sector. "The new pier and drydock will complement and expand the shipyard's existing capacity in this homeport and provide greater capabilities to our customers. Our continuing investment in the region further demonstrates our commitment to San Diego and recognizes the important role it plays in our strategy."
The new pier and drydock will support current and future Navy surface ship repair, maintenance and modernization, and will accommodate cruisers, destroyers, amphibious assault ships, mine countermeasures ships and both variants of the Littoral Combat Ship. The expanded facilities may also service other ships and vessels under contract, including those for Military Sealift Command, the U.S. Coast Guard and the U.S. Maritime Administration.
The new Pier 4, at 415-feet long and 64-feet wide, replaces a 52-year-old pier and includes new services such as fresh water, electrical, sewage, and storm water containment.
The new drydock will measure 950-feet long and 205-feet wide, with a design lifting capacity of 55,000 tons. When operational in early 2017, it will be the company's largest drydock in the United States and will employ several environmental design features, including LED lighting, electric cranes, air-cooled emergency generators, a zero discharge closed-loop salt water system, and storm water recovery systems.
BAE Systems' new pier and drydock are expected to increase employment opportunities at the San Diego yard, which currently employs approximately 3,000 people in the region, including shipyard workers, weapons support personnel and employees in nearby Rancho Bernardo supporting U.S. military and intelligence community customers.