Cruden to Unveil High Speed Boat Simulator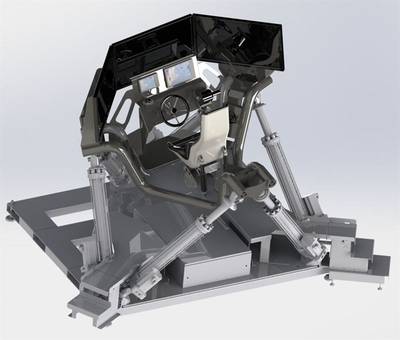 Cruden is unveiling its new high speed boat simulator at the 7th HSBO Forum (Lisbon, May 4-6).

Using detailed modelling and motion cueing techniques, as well as professional image generation developed in the automotive and motorsport industries (including Formula 1TM), the simulator is designed to set a new training standard for offshore, coastguard, naval, search and rescue, and security and control applications. The simulator was developed with data gathered from the Dutch military on its fast interceptor vessels and Florida powerboat specialists.

"We are excited to announce our entry into the marine simulation market. We believe our high speed boat simulator is one of the first to combine real boat and associated hardware with professional wave and boat dynamics models and image generation for power boat training scenarios," says Maarten van Donselaar, CEO of Cruden.

"While scenario-based simulator training is commonplace in the marine sector, this tends to be focused on larger craft. We are offering a new solution for training in critical safety and boat handling situations where motion, forces and dynamic feedback play an important part. We want to bring renowned Cruden technology to improve safety and reduce costs to new applications."

Simulator highlights:
6-DOF 640 motion system
Range of hulls available. (Cruden will bring an open cockpit demonstrator to the HSBO Forum.)
Shock-mitigating seat by Ullman Dynamics
SIMRAD NSS7 and NSS12 EVO2 Chartplotter/multifunction displays
Customers will be able to integrate their own hardware, if required
Display either with on- or off-board projection systems
Service and maintenance packages.

"We look forward to presenting the high speed boat simulator to the HSBO Forum community in May. The reaction from the organisers and our partners has been very positive so far," concludes Maarten van Donselaar.