Conquest Installs 850t Crane on Allseas Solitaire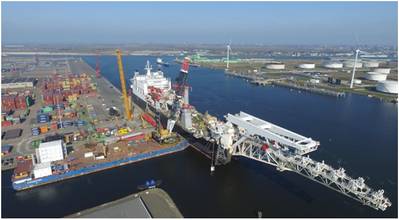 Conquest Offshore was contracted by Allseas to remove a 300-ton crane and transport and install a 850-ton Huisman crane on board of one of the largest pipe-lay vessels in the world, Allseas Solitaire.
The 397-meter vessel MV Solitaire is the largest ship ever to have passed IJmuiden's massive sea lock after which the ship was berthed at Dutch Offshore Base in Amsterdam. The pipe-laying vessel is used for the construction of natural gas pipeline systems and oil pipelines. Before the vessel is scheduled to return to sea in summer 2016, the 300 ton SPC (special Purpose Crane) was replaced by a 850-ton Huisman SPC by Conquest MB1.
We believe that Conquest MB 1 heavy lift barge is the right tool for all kinds of challenging jobs. Looking at the time schedule, dimensions and weight of the installed components it certainly was a challenge. Especially as we were also preparing for departure for the next job.
Conquest MB1 is now underway to Mexico for a salvage job in the Gulf of Mexico (GOM).