Stena's NextGen Ferry Floats Out in China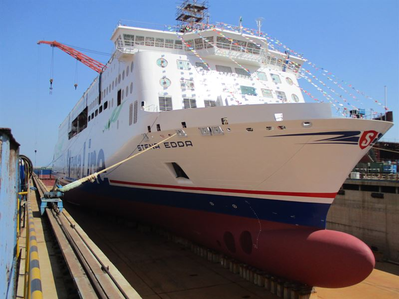 Ferry company Stena Line has achieved another major milestone in its fleet investment program with the 'float out' ceremony of the second vessel in its new generation E-Flexer series.
The second vessel will be named Stena Edda and follows the Scandinavian heritage decided for the five new vessels that are being constructed at the Avic Weihai Shipyard in China.
Stena Edda just before the water started to fill up the dry dock.
Stena Edda is scheduled to enter service on the Belfast-Liverpool route in spring 2020. This is the second of three new E-Flexer vessels bound for the Irish Sea during 2020 and 2021 and represents a significant multi-million investment by Stena Line in the region. The 'float out' ceremony started at 13.18 hrs local Weihai time today and at 18.00 Stena Edda floated out of the dock. These timings were chosen especially because 18 is a number of good fortune in China.
At 215 meters, all three vessels being built for the Irish Sea will be larger than today's standard RoPax vessels and will provide freight capacity of 3,100 lane meters and the space to carry 120 cars and 1,000 passengers and crew. For Belfast – Liverpool capacity will increase by almost 20% compared to today. The next generation vessel is also well in line with the Stena Line strategic commitment to Sustainability and will be extremely fuel efficient to reduce emissions. They will also feature a digitally enhanced customer experience.
Stena Line is the largest ferry operator on the Irish Sea, offering the biggest fleet and the widest choice of routes between Britain and Ireland including Holyhead to Dublin, Fishguard to Rosslare, Liverpool/Heysham to Belfast and Cairnryan to Belfast, a total of 232 weekly sailings. The company also offers a direct service from Rosslare to Cherbourg with three return crossings a week.
In addition to the three Irish Sea bound E-Flexer vessels, Stena Line has also ordered a further two E-Flexer RoPax vessels with a larger design, to be deployed within Stena Line's network in 2022. These larger ships will be 240 meters long with a total freight capacity of 3,600 lane meters, and passenger capacity of 1,200. Stena Lines sister company Stena RoRo is managing all the E-Flexer building projects that are ongoing on Avic Weihai Shipyard.